2014 Brunello di Montalcino
Montalcino , where sangiovese ripens more amply and more beguilingly than anywhere else
Vintage: 2014
Certification: Brunello di Montalcino DOCG
Grapes Varieties: Sangiovese
Alcohol: 14.5%
Aging: 4 years in barriques
Format: 750ml
Type: Red Still Wine
Serving Temperature: 16/18 °C
Pairing: First Courses of Meat, Second Courses of Meat
Country: Italy, Tuscany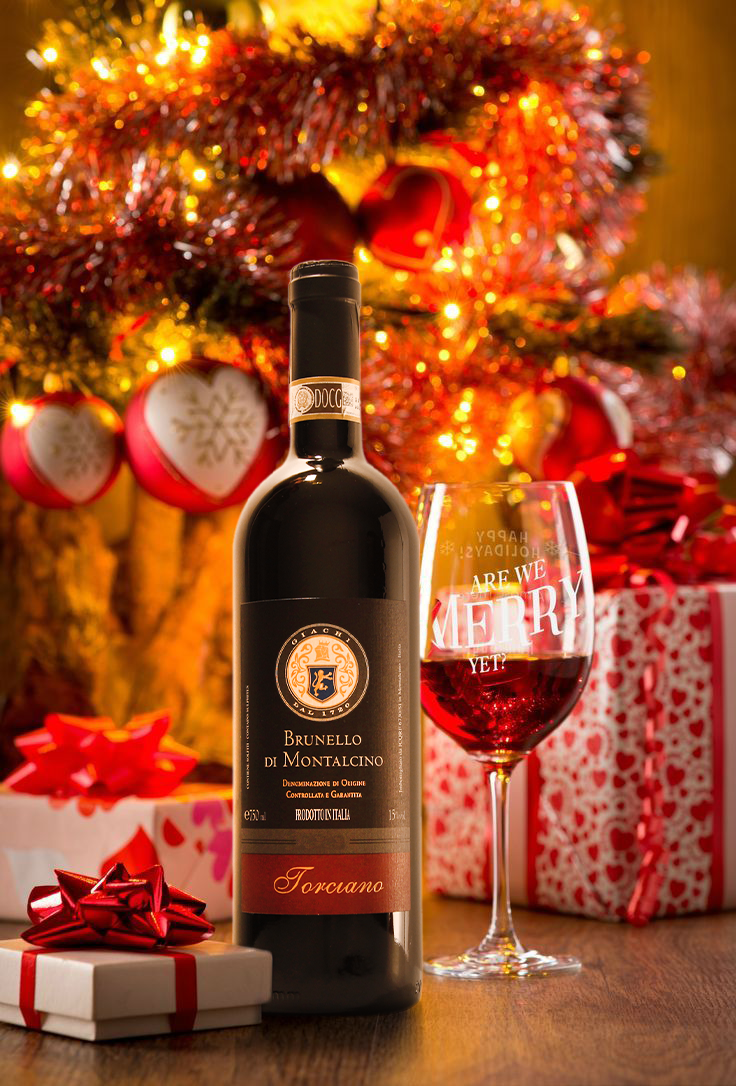 Wine Description:
This wine is made exclusively from Sangiovese grapes, called "Brunello", cultivated in hilly areas with good exposure at an altitude of 400m a.s.l. on ground which dates back to the Ecocenico Era.
Over the years it has gradually acquired greater fragrance, a more velvety flavour, greater harmony and a delicately intense bouquet. Its color is a deep ruby red, tending to garnet with age. It has a strong personality with a dry, full, smooth, well balanced flavour.
Excellent with pasta dishes garnished with sauces made from wild boar and meat, with tasty noble game roasts and poultry as the Fiorentina Steak. Also exceptionally good with mature and spicy cheeses.
Wine Cellar:
Tenuta Torciano Winery is situated in the heart of Tuscany, 35 minutes from Florence and 20 minutes from Siena, surrounded by beautiful rolling hills and a succession of unique greenery that features towering cypress trees, long stretches of beautiful vineyards, olive groves, forests of oaks and lovely villages.
When you visit Tenuta Torciano Winery, you will totally immerse yourself in Italian culture, together with a Tuscan family consisting of 13 generations of wine producers. Here you will experience warm hospitality and additional Tuscan traditions handed down from father to son.
Area of Production:
Montalcino in the province of Siena, famous for its history and natural and artistic beauty.
Brunello di Montalcino is one of Italy's most famous and prestigious wines. DOCG regulations require Brunello vineyards to be planted on hills with good sun exposure, at altitudes not surpassing 600 meters (1968ft). This limit is intended to ensure the grapes reach optimal ripeness and flavor before being harvested.
Grapes:
The Brunello di Montalcino is made exclusively from Sangiovese Grosso grapes, cultivated on the slopes around Montalcino. Sangiovese Grosso is the large-berried form of the normal Sangiovese. Its name means 'little dark one'. The use of "grosso" (big) and its inclusion in the name of the wine is useful to differentiate this wine from Chianti.